May was largely a reading-slump month for me. In the first three weeks I only managed to complete one audiobook. I think part of it is readathon backlash: maybe I'm a better reader when I stay on a regular pace rather than binge. I'm also in a serious rough patch with blogging—I thought that after my house rebuild was complete I'd be eager to jump back in to reconnecting with all the book bloggers I'd been missing but so far it hasn't been the respite I'd thought it would be. I have a lot of curriculum to write for next school year, and somehow that competes with blogging time. I'm going to try taking the mental pressure off (not feeling guilty for not keeping up with blogging) and see if that helps me get my groove back.
On the 20th, my oldest son turned 20 and got into a motorcycle accident when a car decided to do a last minute illegal u-turn in front of him. He was wearing a helmet and padded jacket, and managed to emerge with only a broken leg, a couple of broken toes, and a bunch of cuts, scrapes, and bruises. After a stressful weekend in the hospital, he's back in his apartment - bedridden but recovering. Though it could have been much worse, it is not an experience I recommend to anyone! Mothering makes me feel old.
5 Books
Read in May
[36 books year-to-date]
1 Nonfiction:
-
The Name of God is Mercy
, Pope Francis (4.5) This small book is formatted as an interview, which made it feel somewhat disjointed for me, but the pope's message is such a good one that minor quibbles fall to the wayside. I love that Pope Francis takes the time to make his heart known. It's refreshing to hear of someone in such a powerful leadership position use that influence for good.
2 Junior Fiction:
-
A Stranger Came Ashore
, Mollie Hunter (4) Our school studies for next year are incorporating mythology from different cultures, and this is a perfect slice of Scottish Celtic lore involving the sea and selkies.
-
Roll of Thunder Hear My Cry
, Mildred D. Taylor (3.5) This was a read-aloud for school, and was one of the few that I enjoyed more than my daughter. She did enjoy the characters, but was bored for most of the book. I enjoyed the writing and the characters, and felt that the story is socially and historically crucial.
2 Fiction:
-
Everything I Never Told You
, Celeste Ng (4) I was surprised at how much I enjoyed this book. It isn't the kind that sticks with you for the beautifully poetic writing and nuggets of wisdom, but it is a so well told that it was a little addicting. It is a sad story, as you'll surmise from the first line of the book, but unabashedly frank about the things that drive us, for better or worse.
-
Eligible
, Curtis Sittenfeld (2.5) I listened to this on audio because: 1) I had enjoyed the same narrator while listening to Everything I Never told You, and 2) because it had been awhile since I'd read an Austen spin-off/rewrite and this was getting a lot of promotion. The narrator ended up annoying me, sadly enough, and I'm a little baffled as to why Random House is putting so much effort into this book because the quality just isn't there in my opinion. All the character & locations were duplicated with the modern spin of sperm donors, transgender discrimination, racism, and reality shows. It pushed all of my agenda-novel buttons and didn't fill any of my Austen yearnings.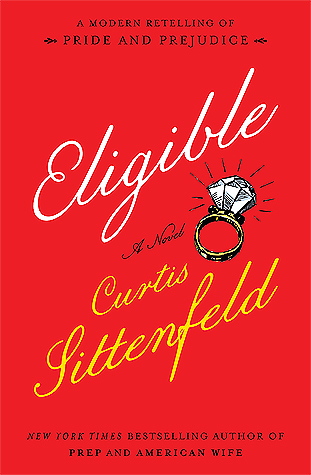 Current Reads:
-
The Nightingale
, Kristin Hannah. [Current audiobook] I think the key for audiobooks (for me) is to find books that are more about the plot and aren't too difficult to track. I'm enjoying this one so far, but haven't developed a connection to the characters or their story, so I'm hoping that happens soon.
-
In Search of the Source
, Neil Anderson. [Current read-aloud] This will probably be the last read-aloud until September. I've read it before and enjoyed learning about Papua New Guinea. My daughter is enjoying it also.
-
Chasing the North Star
, Robert Morgan. I haven't actually started this yet, but it is next up. It's a review copy from LibraryThing that I need to complete. I've liked Robert Morgan in the past, so I'm hoping this one is good too.