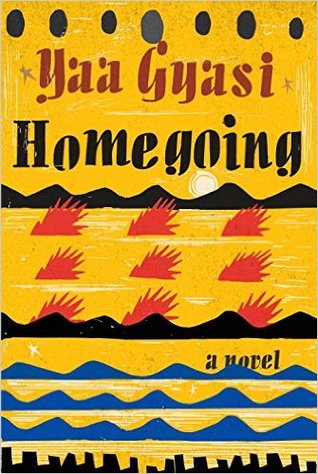 Homegoing
By far the best book I read in June was Yaa Gyasi's Homegoing. I'll admit I was a little skeptical, because I received it through Powell's Indispensable subscription, and sometimes their picks have too much MFA squeak to them. My skepticism turned to full-blown dread when I opened the cover and saw a family tree, because that usually means that something is missing from the writing quality that makes all that extra information necessary.
Fortunately, neither fear proved true. Gyasi's writing is smooth, practical and poetic, without becoming overly polished or predictably quirky. It wasn't so fraught with meaning that the story gets lost in the words, yet there were passages that made me stop and reread.
He had always said that the joining of a man and a woman was also the joining of two families. Ancestors, whole histories, came with the act, but so did sins and curses. The children were the embodiment of that unity, and they bore the brunt of it all.
The structure of the book could have been its downfall: each chapter is told from a new point of view - switching between two familial lines in subsequent generations - and feels almost like an individual story. While I did have flip back to the family tree at the beginning of each section, it wasn't an irritating waste of time. It was a moment to pause and process before moving on to another generation. It was this very thing that ended up being one of the overarching strengths of the book, because it really lets you grasp how we are all individuals, yet unavoidably connected to the generations that came before.
I loved how the voice changed with each new character, loved seeing old characters make reappearances, and mostly loved seeing those things that the characters themselves couldn't see. This is a beautiful tribute to family and a timely reminder of why America still has work to do in repairing race relations. Highly recommended.
Going Home
I always relish the time I get to spend in Tahoe; the Sierra Nevadas are home to me, and the mountains and trees provide a restorative peace that doesn't exist for me in Southern California. I was only there for a long weekend, as I opted to leave before they start replacing the roof, but it wonderful just the same. Mostly I spend my time reading or quilting with the windows open, listening to the rustling leaves of the quaking aspens and the blissful absence of traffic and emergency vehicles. I did manage to get out of the house and hike to the creek, because I know I'll regret it if I don't! The sky is so extra gorgeous and the air so clean. I've traveled to many places, but there is truly no place like home.
Mountains near and far
Taking a walk in the evening provided us with many
beautiful views of the sun shining through the trees
My youngest daughter had to trek out into the meadow to
get a proper photo!
My home, and those quaking aspens
The night sky was so incredibly illuminated by the moon, we stood in the
driveway and looked at Mars, Saturn, and Jupiter, not to mention the stars.