Me and my friend Elizabeth...friends
since kindergarten!
Oh August. Crazy times. And now school has begun again, and I'm tired. We did so much this month! Apart from our house project (which is finally drywalled and seeing finish materials go in) we also went to our 20-year high school reunion and celebrated my grandma's 90th birthday. On top of all that, we put on a Christian music festival over Labor Day weekend, which really absorbs the entire month in preparation. All of our kids helped out during the festival, which was great fun, but we are all exhausted now and ready to be back in a routine!
4 Books Read in August:
(45 year-to-date)
2 Nonfiction:
-
Loving Our Kids on Purpose
, Danny Silk (3.5) Read on the recommendation of a friend...I can see how the parenting approach in this book might be novel for some, but focusing on love and respect (instead of punishment and shame) is second nature to me. That aside, my only real criticism stems from the brevity of the book itself. There isn't enough detail to get past the overview stage, leaving many things up to chance. In particular, the line between teaching kids to take ownership of their problems and having mercy and compassion enough to help them with their problems is quite vague and can easily end up looking more like manipulation than anything else. As an overview of a Love and Logic based parenting style, however, this book fits the bill.
-
The Soul of All Living Creatures
, Vint Virga (2) I received this book from the publisher through LibraryThing, and was expecting something different than I received. I was hoping to find a book that approached the relationship between animals and people with a graceful yet scientific point of view, and was let down. This book would have been more touching had it simply been a memoir of the author's experiences, and more educational had he utilized his many years of experience in behavioral medicine to explain the situations in more detail. As it stands his stories feel incomplete, making the book feel rather pointless.
1 from my Shelf:
-
The Yellow Phantom
, Margaret Sutton (4) What fun this was! I actually bought it years ago because I loved the cover and was going to use it in some sort of art project. Published in 1933, the treasure is less about the mystery (which was still enjoyable) and more about the chance to spy on a bygone era through the fashion, the language, the daily life, and the view of New York City way back when. I'm not going to be able to use it in an art project now—I enjoyed it too much.
1 New Book:
-
All the Light We Cannot See
, Anthony Doerr (5) Oh my, what a book! I received it through Powell's Indiespensable subscription, and just absolutely loved everything about it. In fact, I recommended it every single person I know. And I want to reread it already. It was so well balanced that it almost threw me off...the language, the characters, the story...magical.
2 Current Reads:
-
The Boys in the Boat
, Daniel James Brown. Captivating nonfiction!
-
The Best of McSweeney's
, edited by Dave Eggars. almost done almost done almost done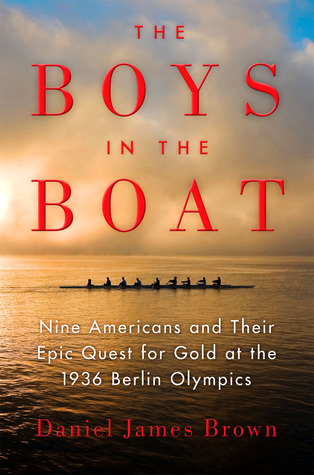 On My Nightstand:
I haven't had much time to read, which makes me crave it all the more. I'd like to reread All the Light We Cannot See but don't know if I'll actually do that...I may have packed it away already. I received some interesting books in my Book Riot Quarterly box that I think I may try to read before they get lost on my shelves, and my Indiespensable shipment will be here any day. Lots of options!