Turns out, a proper vacation is just what I needed to get my reading life moving along. Isn't it always? Being halfway through the year, I can see that I am quite a bit under my target number (of books to read each year) but wonderfully enough, I'm totally fine with that. I've enjoyed the reading I have done, so nothing else really matters much.
6 Books Read in June:
(34 year-to-date)
1 Nonfiction:
-
Devil in the White City
, Erik Larson (4.5) Incredible nonfiction here! I had to keep reminding myself that this story was for realz. I enjoyed reading Thunderstruck, but was blown away by Devil in the White City. That is not to say that it was perfect...I think that Larson tends to include too many names in his narrative instead of finding other ways to include those extra fascinating details...but it still doesn't get much better than this. I listened to this on audio, and thought the narrator did a fabulous job. If you haven't read this, put it on your list.
1 From my Shelf:
-
Cloudsplitter
, Russell Banks (4) This book was 758 pages. That's one important thing about it. Other than that significant fact (which kept it on my shelf for over a decade before I was finally guilted into reading it) it's a pretty great read. It almost felt like a real account from pre-Civil War America at times, I was so thoroughly immersed in the story. This was the story of John Brown (of Harpers Ferry fame) and his fanatical abolitionist actions, this was a wonderful perspective on the Civil War.
4 Vacation Reads:
-
Please Ignore Vera Dietz
, A.S. King (3) Sent in the Book Riot Quarterly box as an exemplary example of Young Adult Fiction, this troubled-teen-story didn't knock my socks off. It was an interesting story, but didn't seem deeply felt. The characters were a little thin, the edgy content didn't feel entirely genuine, and overall wasn't very compelling. Maybe I'm just super picky, but it wasn't very memorable. My socks were still all the way on.
-
The Sisters Mortland
, Sally Beauman (4) Surprisingly enjoyable story in the same vein as The Thirteenth Tale. Some mystery and intrigue, a touch of the unreliable narrator, and a lovely British setting had me turning the pages quickly. Being stuck in bed with a sprained ankle turned it into a mini read-a-thon, and reading it quickly probably improved my opinion of it in general. Still, if you liked The Thirteenth Tale or have enjoyed any of Kate Morton's book, this one may please as well.
-
Flora
, Gail Goodwin (3.5) I loved the setting in this book: a small mountain town in the American South at the end of WWII. The mood reminded me somewhat of To Kill a Mockingbird. There were some POV/timeline issues for me, that ended up pulling me out of the story and meant I wasn't very invested in the ending. Still, solid and enjoyable.
-
Longbourn
, Jo Baker (3) I wasn't going to read this one, but the cover art is so gorgeous and everyone was talking about how good it was. So I read it, and concurrently discovered that I am a Jane Austen Purist. I was entranced by the idea of hearing from the servants' perspective, but that's about where the fascination ended. The story didn't stand on its own, which compounded the feeling that the details were all gratuitous. It might as well have been a behind-the-scenes-of-the-Keira-Knightly-version of Pride and Prejudice. And there...when I heard myself think that, I knew I was a purist. Sorry, turns out I've got a bit of a snob in me after all. It wasn't bad, but it wasn't as good as the cover art.
5 Current Reads:
-
King Dork
, Frank Portman. My current book club book, I'm hoping to tear through it this weekend.
-
The Storied Life of A.J. Fikry
, Gabrielle Zevin. I just started this audio book and I'm already hooked. Fun stuff!
-
James and the Giant Peach
, Roald Dahl. Reading aloud to my 10yo daughter.
-
Big Mouth & Ugly Girl
, Joyce Carol Oates. Reading with my 13yo daughter.
-
MFA vs. NYC
, edited by Chad Harbach. This was brought to my attention by Carrie (NomadReader). It's a collection of essays about current American fiction. I'm really enjoying it as a way to widen my view on how things are working in publishing.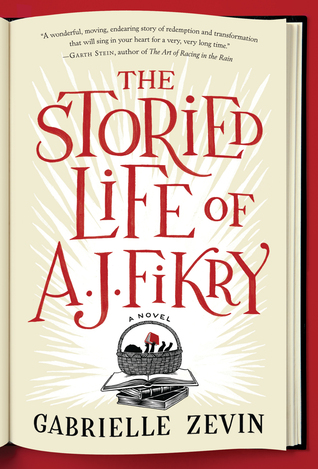 On My Nightstand:
Even though there's a ton of work left on my house project, I've started to think in terms of what books I'll read before I move back into my home. It's kind of a weird feeling, since that might be close to the end of the year, but I'm just so excited at the thought of nearing the end of this phase of my life. Somehow, this makes me want to read some of the books that have been on my shelf for quite a while, but who knows if I will? I don't have anything lined up right now, except for perhaps All the Light We Cannot See by Anthony Doerr. That's been calling my name. Have you read it?