I'm not usually a fan of big cities. The noise, the sirens, and the traffic can all grate on my nerves and make me a little claustrophobic (which is, perhaps, why living in L.A. county doesn't drive me whacked--it's so spread out that I can pretend that we aren't all piled on top of each other). However, it is nice to visit a city with some history and character--something L.A. doesn't really provide.
I really didn't know what to expect from Dublin. All I knew was that James Joyce couldn't wait to get away from it (and they seem to love him anyhow) and that it isn't a favorite of Em's. As our taxi took us from the airport to our hotel, all I could think of were the disparaging remarks in Dubliners.
Now I must say that being there the week of Saint Patrick's Day probably didn't provide the most reliable image of the city. It was completely packed, and not necessarily with Irish people. So the city was alive, but just with visitors...we found ourselves wondering where the Irish people were! I did end up liking the city, though. What I really enjoyed was the enjoyment of the arts. Everywhere I turned I saw signs of music, art, and literature, which is far more than I can say for what I see in my neck of the woods.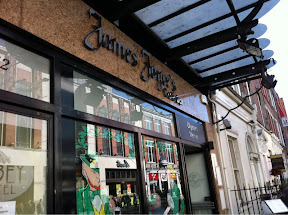 James Joyce's Cafe...yummy cappuccino on a cold day.
Davy Byrnes was apparently a fixture in
Joyce's Ulysses??
Temple Bar Book Market on Saturdays.
Not only were there book stores and the Writer's Museum, but there are literary tours and monuments. I even saw a group of kids on a Literary Treasure Hunt. There were people reading all over the place, poets selling their works on the street corners, and even books stashed behind desks and bars in case work was light. (And the Irish Film Institute was showing Norwegian Wood, which I was unfortunately unable to make time for.) These may be normal where you are from, but it was a rare treat for me. Buses in L.A. do not advertise the latest news in literary fiction.
L.A. ads are all TV/movie/fashion/beauty centered.
On the left is the Dublin Writer's Museum.
The Paddy's Day Parade in Dublin was another feature of our visit there. It surpassed anything we'd imagined. The creativity and imagination in the costumes and other creations was astounding. Plus bagpipes. I love bagpipes.
So lifelike it was almost creepy. I was captivated
but luckily remembered to take a picture.
Eyeballs and doggie-bone-hats. Not really sure why.
We arrived in Dublin Tuesday night, and left midday on Saturday (St. Paddy's Day was on Thursday) and found it to be a nice amount of time there. We did tons of walking and sight-seeing, and were ready for the next leg of our journey: Northern Ireland. Will post pictures tomorrow. :)